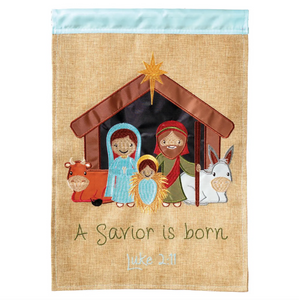 An exquisitely embroidered & appliqued Nativity scene is the centerpiece of this outdoor flag. Embroidered below is A Savior Is Born Luke 2:11 text. Flag is same on front and back sides.

Double sided applique flags are double thickness burlap, readable on both sides. They are heavier than most flags on the market and will hold up longer. They have detailed stitching and a combination of appliqued fabric and embroidery stitch.
Flag will retain its color and beauty for years if displayed in shade or semi-shade, and is rainproof.
Size: 13"x18"
Classic garden flag stand sold separately HERE.