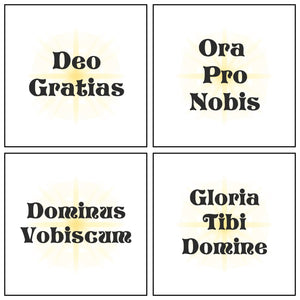 Exclusively ours! 
This unique and versatile 4 piece set of fabric squares features Christian refrains in traditional Latin:
Deo Gratias - Thanks be to God
Ora pro nobis - Pray for us
Dominus vobiscum - The Lord be with you
Gloria tibi domine - Glory to you O Lord
Each verse is embellished with a golden yellow starburst.
These little panels are ideal for prayer cloths, quilts, table runners, pillows, placemats, bags and wall hangings.  Also ideal for use in projects for children like soft blocks, applique and quiet books.
Set contains one of each of the 4 designs shown.
Each panel is 6 in x 6 in.  100% cotton
Custom printed in the USA.
See our entire collection HFS Art Panel collection.