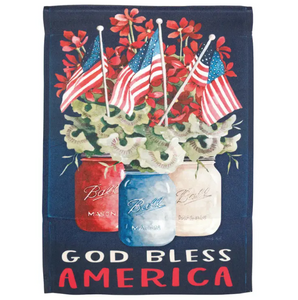 "God Bless America" mason jar design is sublimated to become part of the fabric - not just printed on the surface.  Light shining through from behind creates a stained glass effect.   
Made from heavy duty 650 denier polyester, this flag offers outstanding quality at an affordable price.  Single thickness, with design on front and back.  
Flag will retain its color and beauty for years if displayed in shade or semi-shade, and is rainproof.
Size: 13"x18"
Classic garden flag stand sold separately HERE.