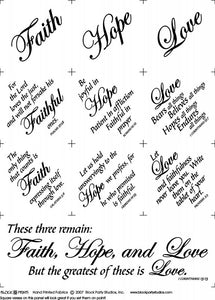 Six inspirational blocks with scripture verses in concert with the three blocks "Faith Hope and Love" and a title banner featuring Corinthians 13:13. 

Includes:
• 100% Kona cotton fabric fat quarter panel featuring Faith, Hope and Love.
(6) Scripture verse 5" square blocks

(3) Faith, Hope, Love Script 5" square blocks
(1) 1 Corinthians 13:13 5" x 14" rectangle banner

Hand Printed in U.S.A.