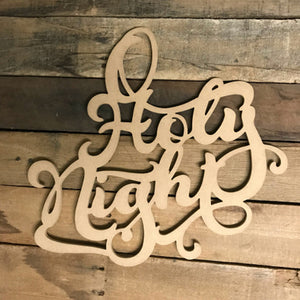 Unique MDF script text cutout of "Oh Holy Night".  Use to make beautiful wall art, door/wreath decorations or add to larger wood projects for special dimensional detail.
Easy to embellish with paints, markers, beads, glitter, buttons, pom poms, washi tape, decoupage and more.  

Size:11"h x 12"w 
x 1/8"d
Made from
high quality cabinet grade MDF engineered wood.  
Best used indoors or outdoor sheltered areas like covered porches or awnings.