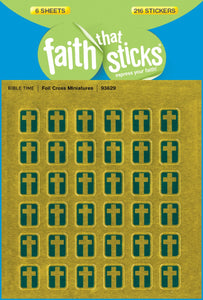 Whether you are journaling in your Bible, scrapbooking, or doing crafts, these inspirational stickers are wonderful touches of faith and will spark more creativity. 
Each of these miniature stickers is gold foil and green with a cross. The small size (¼" x ½") makes them ideal for all sorts of uses.

216 stickers included.
Size: 4" x 6" Sheet
6 sheets per set.